NEWS
---
Dr. Amy K.Wagner Joins Medical Panel of BIAA/Mount Sinai TBI Rehabilitation Guidelines Project
As part of its mission to advance research and appropriate treatment for people with brain injuries, the Brain Injury Association of America (BIAA) announced in July that it has awarded a grant to the Brain Injury Research Center at the Icahn School of Medicine at Mount Sinai. The grant funds a three-year investigation to develop Guidelines for the Rehabilitation and Disease Management of Adults with Moderate to Severe Traumatic Brain Injury (TBI).
Dr. Wagner is a member of a group of fifty of the nation's top researchers and clinicians, as well as family members of people with brain injuries, selected to review and assess evidence in functional, medical, cognitive, behavioral, and social domains. The first meeting was held on September 9 and 10 in Dallas, Texas.
Presentations from the first meeting can be viewed online at http://www.biausa.org/TBIGuidelines/tbi-rehabilitation-guidelines
---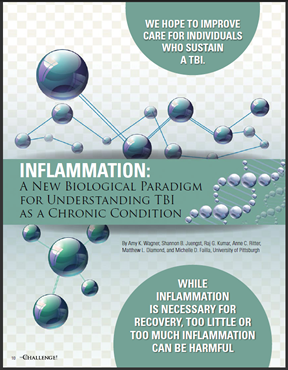 ( or download the complete
Challenger; Summer 2014, Research
issue "Inflammation..." begins on page 10)
---

UPMC-TBI is one of 16 research and clinical sites in the Traumatic Brain Injury Model Systems (TBIMS) network. Sites are funded by the National Institute on Disability, Independent Living, and Rehabilitation Research (NIDILRR) and awarded grants because they are national leaders in TBI-related care and research.
Funding Source: Administration for Community Living / NIDILRR / 90DP0041
Timeframe: 2012 - 2017
This department is also home to Model System in spinal cord injury.
NeuroRehabiltation, Education, and Rehabilomics® Research model system is directly in line with the topmost priorities of NIDRR.
---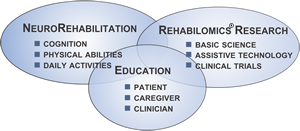 NeuroRehabilitation
NeuroRehabilitation, centered at the Brain Injury Unit at UPMC Rehabilitation Institute (RI), provides a comprehensive team "model" of healthcare providers delivering treatment and support to people with brain injury. RI is part of the largest rehabiliation network in Western Pennsylvania.
Rehabilomics®
Rehabilomics® research measures and evaluates biomarkers to better understand rehabilitation-relevant mechanisms of injury, secondary complications and disease and how they impact function, prognosis and recovery for people with disabilities.
Education
Patients, families, and caregivers are provided with evidence-based materials to enhance knowledge and support as they move through the rehabilitation process to greater independence.
---