NeuroRehabilitation - Clinical Care

---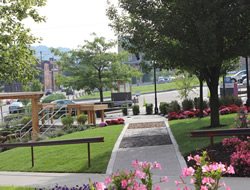 UPMC Rehabilitation Institute (RI) provides a comprehensive team "model" of healthcare providers delivering treatment and support to people with brain injury. The recently opened Recovery and Rehabilitation Garden combines therapies, such as varied walking surfaces and steps, with simple gardening. One of several innovations being used by the Brain Injury Unit.

For information on inpatient rehab programs and admission procedures call: 1-877-287-3422.


To refer a patient or to make an appointment with a physician in the Department of Physical Medicine & Rehabilitation call: 412-692-4400.
---
Helpful factsheets for the clinician

Report: 2016 Profile of people within the TBI Models System (from www.tbindsc.org)


Center of Outcome Measurement in Brain Injury (COMBI) provides assessment worksheets for clinicians. Each topic includes links to a syllabus, forms (downloadable pdfs) and training in using the worksheet. Some examples are:
Agitated Behavior Scale

Cognitive Log

Coma/Near Coma Scale

Confusion Assessment Protocol

Disability Rating Scale

Functional Assessment Measure

Neurobehavioral Functioning Inventory

Supervision Rating Scale